Parrot Harness vs Travel Cage – What's Better?
Credits to the owners. See copyright disclaimer
This post contains affiliate links. Read the affiliate disclosure
Parrot Harness vs Travel Cage – What's Better?
By: Michael Sazhin
What is better for taking a parrot outside, a harness or a travel cage? This article will go over some of the pros and cons of using a travel cage or harness for taking a pet parrot outdoors.
As you well know, it is very important to have some physical method of restraint whenever you take a pet parrot outside. Although having a great relationship with your parrot should be the primary reason your bird does not fly away, a back up physical means is best to keep things safe when things outside your control happen. Even well trained parrots and parrots with clipped wings manage to fly away and be lost outside.
You have 3 choices of protection when taking your parrot outside, a travel carrier, travel cage, and a harness. Which is best or which should you get? In my opinion, each of these has its own purpose and you would benefit most from getting all 3. I have each of these 3 for each of my 3 parrots.
A travel carrier is the best thing to use to transport your parrot to go somewhere. Most often this will be to go to a vet, but it can just as well be helpful to drive a couple hours to a summerhouse where you have a full size cage waiting. Unlike a travel cage, carriers usually have solid walls and limited visibility. Some are hardshell plastic carriers (normally used for a cat or a dog, but converted for use for a bird) while others are special purpose bags for transport. A carrier offers better protection for the parrot and less climbing opportunity than a cage. Strictly for getting from point A to point B, this is better than a travel cage.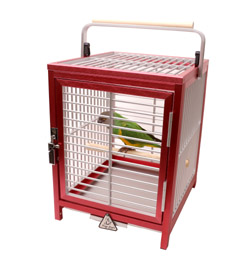 A travel cage is a smaller cage that the bird can be taken outside in. Ideally, it should be lightweight, have a carry handle, and a perch inside for the bird. Try to avoid using a wire cage meant for parakeets for any larger bird. Those cages come apart easily and a larger bird is more likely to speed up that process. Most things are just held together by friction, squeeze, or bent wire and any parrot from a Green Cheek Conure and up can undo that. The Aluminum Travel Cage from Parrot Wizard is light weight, safe, and convenient for all small to medium parrots. If you insist on using a wire cage outdoors, be sure to zip tie everything secure that isn't immediately necessary including all food doors, where the cage connects to the base, and where cage sections connect to each other.
Unlike a carrier, a travel cage is meant to provide your parrot a more active outdoor experience. The parrot can readily see out of the cage in all directions, climb around the bars, and soak in the sunlight. You can more easily see and talk with your parrot and have a mutual time outdoors. A travel cage is good for sitting with your parrot in the backyard, walking around the block, driving and spending time at a park, or when taking a trip where the parrot will be living out of that cage for a few days at a time. If your parrot is spending less than a few hours in the travel cage, forget about putting food and water inside as the parrot will only make a mess and not even consume any of it. For longer trips, put food and water in when you are not in motion.
Although a travel cage can be used in place of a carrier (especially by covering the cage with a towel in cases where the bird is nervous from being too exposed), it may be bulky to go in and out of the vet's office with. A more compact travel carrier that limits your parrot's activity is still better for those types of outings. However, when it comes to enjoying the outdoors and being visible to you, a travel cage is more suitable. Some parrots may be scared of the travel cage or carrier, but luckily it is fairly easy to train them to accept it.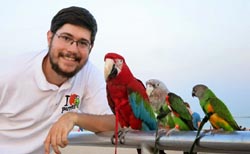 A bird harness provides the ultimate outdoor experience to both you and your parrot. You can enjoy your parrot's direct company and the bird can freely move about on you. Add a leash extension in a safe environment (nowhere to get tangled or harmed) and your parrot can even fly. The harness provides the maximum freedom, however, it also requires the highest level of training and the highest level of supervision. If you go outside with your parrot on a harness, you need to keep your attention on the bird the entire time. So, if your purpose is to go for a walk with your bird, a harness is great. On the other hand, if you are having a backyard BBQ with guests and want your parrot to be outside, it may be better to use a travel cage since you are too busy (and near a hot grill) to be able to give the bird enough attention. Although a harness can keep your parrot from flying off, you cannot simple tie the bird to something and divert your attention. A bored bird can chew through the harness or get into mischief if left unsupervised even for a short time. So, as you can see, a carrier, travel cage, and harness all have their place.
Travel Carrier Pros/Cons:
· Pro: Secure
· Pro: Low visibility (good for new or nervous bird or busy environment)
· Pro: Lightweight for mobility
· Pro: Inexpensive or mid-priced
· Con: Not good for getting sunlight
· Con: Not good for interaction
Travel Cage Pros/Cons:
· Pro: Good visibility
· Pro: Good for getting sunlight
· Pro: Some interaction with bird through bars
· Pro: Bird can live in travel cage for a few days at a time
· Con: Midweight, less convenient to walk with
· Con: Expensive (or poor quality/security on wire cages)
· Con: Heavy or impossible for large parrots
Harness Pros/Cons:
· Pro: Maximum freedom
· Pro: Flight possible
· Pro: Personal hands on interaction
· Pro: Inexpensive
· Pro: Lightest travel method for large parrots
· Con: Requires extensive training
· Con: Requires constant attention/supervision
· Con: Difficult or unavailable for very small parakeets
Using a travel carrier, travel cage, and harness all have their pros and cons. Each has its place depending on what you are trying to do with that bird at that time. Use a carrier for efficient transport of your bird. Use a travel cage to spend time outdoors with your parrot in a more interactive way and as an alternative to the harness if your parrot is not yet ready to use one. Train your parrot to wear a harness and use a harness for hands on, yet safe, outdoor time with your bird.
Article source: trainedparrot.com